This girl can enjoy sport & physical activity.
This girl can be sporty and feminine.
This girl can be strong and graceful.
This girl can choose to be active.
This girl can enjoy active time with her friends.
This girl can compete with boys if she wants to.
This girl can can compete.
This girl can win.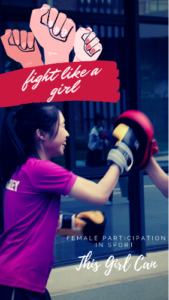 All these statements are from female students who showed an interest in the This Girl Can program now running in the school I work.
After three weeks of a whole secondary school approach to educating students about Gender Stereotypes in Society and Sport, it was finally time to start our This Girl Can boarding programme.
A survey was sent out to all female boarders to gather an idea of how many students would attend and which physical activities they would be interested in participating in.
From the 34 girls who completed this survey 25 girls answered that they would maybe – definitely attend. I thought this was fantastic! I honestly don't think interest would have been so high without the whole school approach to teaching students about the meaning of gender identities and gender stereotypes beforehand.
The first week of This Girl Can, unfortunately did not see 25 girls attend, neither did the second, nor the third. As the weeks went on though, the numbers increased, even if only by one girl, that was one more girl choosing to be physically active!
Week 1 = 6 girls
Week 2 = 7 girls
Week 3 = 8 girls
These numbers don't look impressive, I know that, BUT girls are coming and being active. Week after week they are bringing a new friend. Here's hoping that numbers continue to grow.
Week 1 was planned to be all singing, all dancing with many different activities. However, after speaking to the girls who were attending, they simply wanted to play badminton. They didn't want anything fancy, just a few badminton courts.
The second week was interesting and reminded me WHY I was running this programme. As I walked into the sports hall to meet the girls, I saw they were setting up a badminton net on the edge of the sports hall. They had been pushed off the other badminton courts because some boys wanted to play a 'proper match' and these girls wanted to play for 'fun'. This is something I have seen happen week after week and it was the exact reason I introduced the This Girl Can programme. Girls do not see their participation or their games as important as the boys' games. This was simply due to the girls typically being less competitive. As a result, girls give up their space and equipment. All boys were quickly told that this was the time for This Girl Can. During this time girls get priority for space and equipment. This has turned in to a weekly reminder I have to give many boys, who move and give space to the girls.
I planned for This Girl Can to be much busier and I planned for many more activities. I will keep my fingers crossed that in time I can put these bigger plans in to action. However, if my job for now is simply to ensure that the girls can access the equipment and space they need during the allotted time to have a friendly rally – then I will fulfil that job!