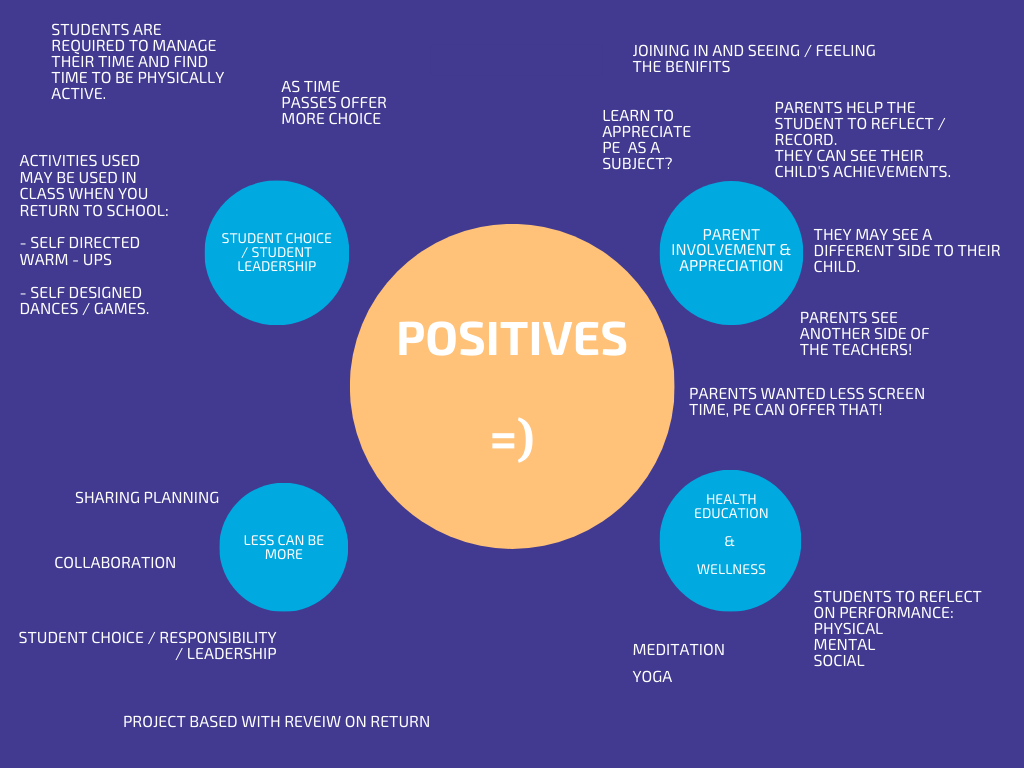 If you're lucky enough to have returned back to school, you will have realised that school life is not yet back to 'normal'.
If you haven't returned to school yet, you are probably asking many questions;
How will the students be?
How many students will return?
What will I be teaching?
Along with many more questions.
In my last blog I tried to spread the positivity and dug in to the positive lessons I believed we could learn from this terrible experience. Now that I have been back in school for a while, I'm ready to reflect back on the positive points I predicted to dig deeper and identify which positives have actually materialised. If not, why not? And if there are any pleasant surprises.
When looking at student choice and student leadership, as many of the tasks I set for students while learning on-line required them to make choices and often take on a role, I hoped that students would return to school more independent and ready to take some responsibility for their learning.
To begin with, this result was unfortunately not as evident as I had hoped. The majority of students who had returned to school have been super excited to see each other and amazingly enthusiastic to be active again. I sensed this enthusiasm and jumped straight in the deep end, planning for many self-directed tasks for the students to choose from.
Unfortunately, students were simply not ready for this. Students had been without a proper structure and routine for three months.
A count-down was now meaningless, the blow of a whistle had no effect and shouting "eyes on me" had no reply. Students did not know how to express their excitement, match this with giving them 'too much' choice with what to do simply meant they had no idea of how to do themselves.
Students were over the moon to be active and social again BUT in order to ensure safety and learning, activities needed to be brought back to basics. Clear instructions needed to be given in order to ensure complete inclusion. My advice, go back to basics. Teach as if you were starting the school year all over again. Set expectations, agree on a code of conduct and set simple yet enjoyable tasks. Build on this and more self-directed learning will come later.
Secondly, 'Less can be more' and this is still very true! Working online meant that as a department, my team had to make the effort to call or email each other to share ideas and finalise plans. This, of course, is much easier to do when you are sat in an office together.
I am extremely happy to be back with my team and now that we are together, collaboration has been extremely easy. Every day starts with a ten-minute overview of the day from our Head of Department which then branches off to conversations between individual teachers sharing ideas on what they plan to do for the day. This experience has encouraged us to ask for advice and give ideas to make each other's lives easier. Shared planning ensures simplicity and this is absolutely golden!
Thirdly, 'Health Education & Wellness' had never had its own place in the PE curriculum we follow. However, as the lockdown extended, it became increasingly important to ensure that students were given time to reflect on their situation, experiences and achievements.
Students were under a lot of pressure to complete a lot of work from numerous subjects in a completely different way without the guidance they were used to. It was important that we offered the students opportunities to reconnect with their emotions; time for reflection and relaxation was needed. We began to focus on activities like yoga and meditation which we had not taught in school before.
Staff and students enjoyed the inclusion of this in our programme. It was new for everyone and offered a completely different experience from those we were used it. It is safe to say that students, staff and parents now all recognise the importance of mental as well as physical wellness and we will now deliver yoga, mediation and reflection activities within our PE curriculum.
Finally, on to the topic of 'Parent involvement and appreciation'. As PE teachers, we have all experienced the constant battle of justifying the importance of our subject. It is a battle that none of us signed up for in our contracts but we all fight passionately for every day. Sometimes this battle is against parents who do not recognise the importance of their child's study of PE and participation in physical activity.
Due to the lockdown, however, parents began to highly appreciate the opportunity their children were given to be active during PE lessons. The majority of other lessons required a child to be sat working, usually in front of a screen, and parents now saw first-hand how sedentary learning was and appreciated that their children could enjoy creating and exploring during PE lessons. Furthermore, as I talked to students and gathered feedback, it became increasingly evident that parents had been participating in PE lessons with their children. Adults had felt the need to be active and recognised the benefits. Parents were now showing full appreciation!
Since returning to school I believe that parents' support for PE continues. I was expecting some parents to say they did not want their children participating in PE and swimming classes, but all of my returning students have participated. If students have forgotten their correct kit on more than one occasion, I have emailed parents and their replies are supportive, saying they will ensure that their child turns up to class with their correct kit next time. This never used to be the case.
This new support from parents may be the most positive change to come from this pandemic.
So much time away from school has of course caused changes, it is important to go back to basics and set standards again. If you have any questions about starting back at school, please feel free to get in touch. I am not an expert, but I have experienced the reopening of schools after lockdown.
I'm hoping in my next blog I can get back to writing about 'Once Upon a PE Lesson', stories and cross – curricular learning.